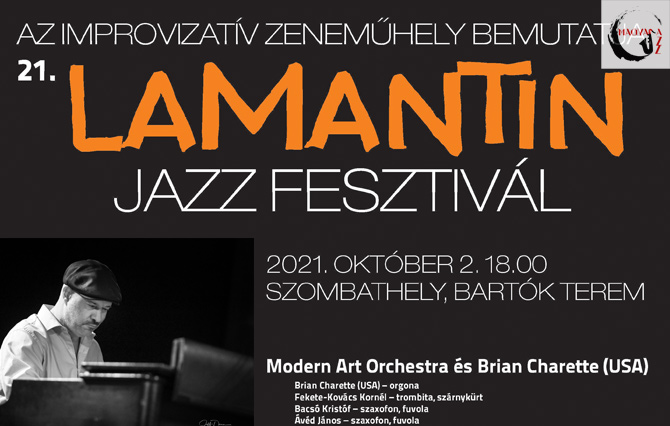 Brian Charette visited Hungary for the first and last time the year before the pandemic as guest artist of a young band, the Organism Trio  at the Budapest Jazz Club, where they played a highly successful gig.
His first performance with MAO will be in the beginning of October at the Lamantin Jazz Festival in Szombathely. The concert will start at 6 pm at the Bartók Hall.
I asked Brian Charette about that concert with the big band.
MagyarJazz: We are delighted to have another chance to hear your music again in Hungary after two years! What memories do you have of the last concert in Budapest? Did you manage to look around Budapest a bit?
Brian Charette: I loved the gardens in the middle of the apartment buildings of course. We had amazing Goulash for lunch in a terrific cafe. The concert was sold out and very well received!
MagyarJazz: The Lamantin Jazz Festival usually involves the musicians camping out there and having workshops. I know you are a frequent featured guest in Prague (the Czech Summer Jazz Workshop), where you give masterclasses and workshops in the summer. Do you think it would be possible to teach a master class in Szombathely once?
Brian Charette: Of course, I would love to.
MagyarJazz: You already know the leader of the MAO, Kornél Fekete-Kovács, you just met at the jazz workshop we've been talking about. Did you two have any joint projects since then?
Brian Charette: Yes Kornel played with us at Budapest Jazz Club. We have known each other for about 8 years.
MagyarJazz:
I know you write compositions for big band. Can the Hungarian audience listen to some of these?
Brian Charette: Yes we will be playing three of these compositions at these concerts.
MagyarJazz: How can you prepare for concerts?
Brian Charette: Most of the preparation is organizing all the papers and logistics of travel. The music is the easy part. Lots of planning goes into making the concerts happen, especially now.
MagyarJazz: Your trio album from 2015 features a song called Hungarian Major. Why did it get this name?
Brian Charette: The melody comes from the Hungarian Major Scale :)
MagyarJazz: Last year you released an album, Like the Sun, on which you use electronics and drum machine, and the songs also include ones with R&B, soul and pop influences. However, you recorded your new album, Power from the Air, released this year, with an interesting formation, Hammond organ, flute, alto and tenor saxophone, bass clarinet and drums. This is your third album featuring a sextet formation that has received very good reviews. What style are you planning for your next album?
Brian Charette: My next album will be a very traditional Hammond B3 Quartet recorded at Rudy Van Gelder's Studio where all the classic Blue Note albums were made.
MagyarJazz: There are no more closures, but you're still playing some gigs online. Why did you keep this form of connection with your audience?
Brian Charette: The keyboards are all set up in my studio in NYC. I love how dialed in the sound is, and people love the streams so I keep doing them. I do them from hotel rooms on the road also.
MagyarJazz: How did you survive the pandemic? During the Covid-19 closures, you received an invitation from the MAO to join their Art of Virus program. How did you feel about this virus?
Brian Charette: Very sad. NYC was especially scary in the early days. My wife Melanie got stuck in Berlin when the flights were cancelled. It was a very strange time.
Art of the Virus was a very interesting concept of Kornel. Each composer would write 8 bars and pass it off to two friends who would add to the composition. It was interesting to hear how each composer used what came before to come up with their own part. It is a collective composition and very interesting thought experiment.
You can listen to Hammond organist Brian Charette with the Modern Art Orchestra at the Bartók Hall in Szombathely on the 2nd October, followed by the Binder Quartet and the Bopcorn Quartet.
Those who can't make it to Szombathely on the 2nd of October will have the opportunity to listen to the special concert at the BMC in Budapest the following evening at 19:30.
More information: 
http://www.lamantin.hu/?page_id=1326
https://bmc.hu/programok/modern-art-orchestra-feat-brian-charette-2021-10-03
Photo: Lamantin FB