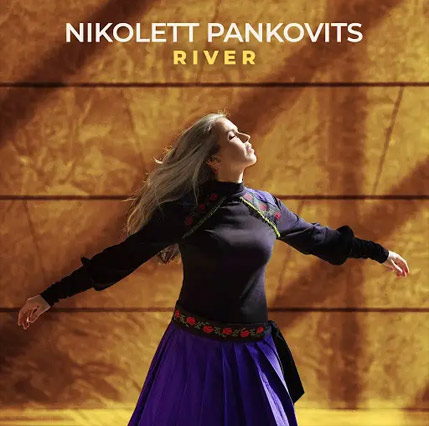 Events of the personal life of Nikolett Pankovits may have provided the igniting spark: key arranger and producer Juancho Herrera happens to be the husband of the singer whom she met in the Big Apple. The listener immediately feels the inspiration and harmony between them when she starts performing markedly Latin-American styled arrangements by the Venezuelan guitarist to Hungarian melodies. But River, her brand new CD documents a couple of other things, too: on top of all, how to make meaningful and original music without including a single original composition. Pankovits set up shop in New York to pursue a jazz singer's career but she does not perform the songbooks of Irving Berlin or Cole Porter, she sings hauntingly beautiful, Hungarian folk songs in an enchanting way.
                The album she released in May also demonstrates how to think out of the box. Arrangements of Herrera, performed by a great studio band, respect the melody. Actually you can still respect something that you wear inside out, can't you? There are three arrangements by trumpet player Josh Deutsch, amazing the listener constantly. The band is excellent, but the legion of contributing women folk singers is even more stunning. Mária Petrás, a regular guest singer of legendary folk band Muzsikás is featured here. Two young women, Artemisz Polonyi and Ildikó Nagy took on tasks of background singing, and have also contributed as arrangers. The lead singer, these two ladies, as well as Boglárka Raksányi have all been credited with selecting the folk songs presented. The careful choice of the repertoire works wonders. Some folk songs are well-known, each native speaker knows them, but the rest, presenting all the different regions of where Hungarians live, are all exciting.
                Last but not least, the straight, completely natural and effortless, yet colourful way of singing by Pankovits makes it all happen. It is the self-explanatory nature of the vernacular to her, performed playfully and honestly. The musicality and the personal appeal of the heritage matter to her, resulting in a carefully crafted presentation in which she is not pushing herself into the foreground at any cost. A CD is really recommendable to fans of modern jazz and for anyone interested to hear how 21st century musicians make their heritage, jazz or folk, their own.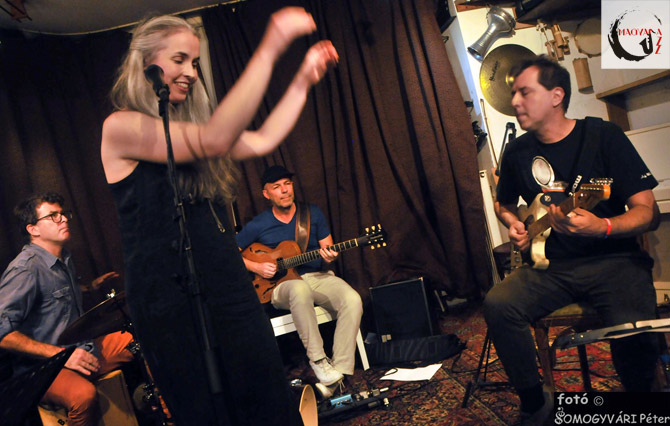 Nikolett Palkovits and arranger-producer Juancho Herrera (guitar) were featured at a club gig on 10th of August by violinist Zoltán Lantos in Nyitott Műhely (=Open Workshop), probably the cosiest place in Budapest for excellent music, literature and visual arts.
Nikolett Pankovits, 2020
Tele Van A Sötét Égbolt (feat. Adam Boncz) - Nikolett Pankovits, Adam Boncz
Ideki (feat. The River Voices) - Nikolett Pankovits, The River Voices
Ha Megunom (feat. Boglarka Raksanyi) - Nikolett Pankovits, Boglarka Raksanyi
Kis Kece Lányom (feat. The River Voices) - Nikolett Pankovits, The River Voices
A Fényes Nap - Nikolett Pankovits
Amott Van Egy Kis Ház - Nikolett Pankovits
Oh, My Dear God (feat. The River Voices) - Nikolett Pankovits, The River Voices
Ne Aludj El (feat. Artemisz Polonyi & Adam Boncz) - Nikolett Pankovits, Artemisz Polonyi
Haragszik A Nap (feat. The River Voices) - Nikolett Pankovits, The River Voices
Aki Dudás Akar Lenni (feat. The River Voices) - Nikolett Pankovits, The River Voices
Tavaszi Szél Utat Száraszt (feat. The River Voices) - Nikolett Pankovits, The River Voices
Tavasz, Tavasz (feat. The River Voices & Mária Petrás) - Nikolett Pankovits, The River Voices, Mária Petrás
Tele Van A Sötét Égbolt - Bonus No Poem - Nikolett Pankovits
Ne Aludj El (feat. Artemisz Polonyi) - Bonus No Poem - Nikolett Pankovits, Artemisz Polonyi
Nikolett Pankovits, Boglarka Raksanyi, Artemisz Polonyi, Laura Angyal, Ildiko Nagy, Réka Bányai, Kinga Cserjési, Katalin Harsáczki - Vocalists
Trumpet: Josh Deutsch 
Guitar: Juancho Herrera 
Piano: Manu Koch 
Bass: Bam Rodriguez 
Drums: Franco Pinna 
Gardon: Ildiko Nagy 
Tilinko: Boglarka Raksanyi 
/Overtone flute/ 
Bombo legüero: Artemisz Polonyi 
Actor: Adam Boncz 
Special guest: Maria Petras